30 Day Content Marketing Plan Ebook and Videos MRR
File Format: Adobe PDF, TXT, MP4 Video, MP3 Audio, HTML
Number of Pages: 69 Pages
Sales page: Included, HTML
Download/Thank You Page: Included, HTML
Included Graphics: eCovers, Web page Images, Banners, Social Images
Cover Graphics: PNG in multiple formats and sizes
Miscellaneous Graphics: Promotional Banners, Extra images
Extra Pages: Checklist, Resources, Mind map, Opt-in Page, Articles and more…
Extras: Upgrade package with video's, upsell sales page and more.
Year Released/Circulated: 2018
Suggested Selling Price: $47.00
30 Day Content Marketing Plan Ebook and Videos MRR Introduction:
You've probably encountered the words 'content marketing' many times. It's a popular phrase especially now when there are literally billions of websites on the Internet, all competing for people's attention!
Standing out from the crowd is harder and more complicated than ever. You can either spend tons of money to get your brand and your products in front of your target audience, or you can create a solid content marketing strategy that you can do absolutely free or for minimal cost!
Of course, the trade-off to not spending money upfront is you're going to be investing a lot of time instead. If you're willing to put in the time and spending hours in front of your computer, then this guide is for you!
Why Content Marketing?
Before I give you the 30-day step-by-step content marketing plan, here are the major benefits to implementing a solid content strategy for your business:
You'll establish a strong brand identity
Brand identity is important for businesses of all sizes. It doesn't matter what industry you're in, if you're a solopreneur or you work for a multinational corporation. How people perceive your brand is essential to your success.
With content marketing, you can inject your personality into your content and make it unique to your brand. When you establish in people's minds who you are and what your brand can do for them, it's easier to persuade them to follow your calls to action.
You'll build trust with your audience
Let's face it. Trusting random brands on the Internet is hard. How often do you trust brands? Unless they establish themselves as some sort of authority, chances are you're not going to be trusting any brand. That's where content marketing shines.
When you implement your content strategy correctly, people will start to see you as an authority. Sooner or later, you'll be getting people to trust you.
30 Day Content Marketing Plan Ebook and Videos MRR Package Includes:
Ebook – 69 page PDF that is a 30 day blueprint to creating a content marketing strategy that converts. Book has a professional lay out with quality images inside, sure to make you look like the professional.
Sales Page – You'll also be getting all you will need to resell the 30 Day Content Marketing Plan Ebook and Videos MRR Package. And since it comes with master resale rights, you can sell as many copies as you want and you get to keep 100% of the profits on every single sale you generate. Purchase it once and sell over and over. You'll get a modern and quality sales page and a matching product download page. Simply add your payment link and your download link, upload the two web pages and it's ready to make money for you on auto-pilot, even when you are away from the computer.
Checklist – A 6 page PDF report that will help your buyers follow the content in a digested format, step by step that they can check off each step as they go and have a much better success with the content creation and marketing.
Resource Cheat Sheet – A 6 page PDF that lists 30 Day Content Marketing Plan Ebook and Videos MRR resources your buyers can follow the links and get a head start on content that gets noticed.
Mind Map – Gives a useful overview or a visual of the 30 Day Content Marketing Plan Ebook and Videos MRR system, so your buyers can see the big picture and better understand the concepts. In 3 different formats, JPG, PNG and a handy HTML version for the web. It can help your customers to "get it". Plenty of visual learners out there.
Squeeze Page – Quality professional and modern opt-in page with a progress bar to help encourage sign-ups and increase conversions. You will also be getting a lead magnet, 13 page PDF, "5 Quick Ways To Generate Leads Through Content Marketing", to build a list or email subscribers quickly and easily. Just copy and paste your autoresponder opt-in code into the squeeze page, upload and it's ready to build you a list on automatic. Includes a thank you page for your new subscribers to download the free report. Report is in DOC format, so you can edit or change, or brand it as you want. Perfect place to link to your sales page and drive more sales.
Promotional Banners – 6 professional 30 Day Content Marketing Plan Ebook and Videos MRR banners you can use to drive buying traffic to your new sales page. In the popular sizes of 120×600, 125×125, 200×200, 300×250, 468×60 and 728×90. In both JPG and GIF. Just add them on your blog or website and link to your sales page. Easy as that. Drive more traffic and sales. Perfect sizes for many blog sidebars.
Graphics – All kinds of images here with plenty of ecovers in different styles and sizes including, flat, Box, Bundle, DVD, Ebook, Stacked, Lead Magnet and more. Also arrows, bullets and buttons.
Articles – 10 quality articles that are all related to content marketing. Easy content to use for promoting your new product. They come in both text and Word DOC formats. Ready to use on your blog or website. You could also use them as email messages. Content that is pre written and ready to use. Copy and paste easy. Titles are listed below.
Email Swipes – Four pre-written text 30 Day Content Marketing Plan Ebook and Videos MRR autoresponder messages including, Lead Magnet/Opt-in, Sales Page (short copy), Sales Page and Subject Lines. Copy and paste them into your autoresponder service and you are done. No need to struggling writing your emails, we already did it for you. Copy and paste them into your autoresponder service and they do the selling for you.
Social Media Images – 10 quality 30 Day Content Marketing Plan Ebook and Videos MRR package JPG images for your social profiles to draw in buyers from the large social media websites. Each Image has a background image with a text quote overlay. All In JPG format. Just post them on your social networks with a link to your sales page and you could have even more traffic hitting your page. Quotes also come in a separate text file.
30 Day Content Marketing Plan Ebook and Videos MRR Guide Contents:
Introduction ……………………………………………………………. 5
Day 1 – Define Your Content Marketing Goals …………………………….. 9
Day 2 – Research And Understand Your Audience ………………………. 12
Day 3 – Create Your Audience Personas …………………………………….. 14
Day 4 – Brainstorm Content Ideas ……………………………………………. 16
Day 5 – Do Keyword Research …………………………………………………. 18
Day 6 – Come Up With Content Titles And Outlines …………………….. 22
Day 7 – Plan Out Your Content Calendar ……………………………………. 24
Day 8 – Create Your Website (If You Haven't Already) …………………. 27
Days 9 to 15 – Content Creation (Blog Posts/Articles) …………………. 32
Content Productivity Tips …………………………………………………….. 33
Content Editing Tips ……………………………………………………………. 36
A Few More Content Tips …………………………………………………….. 38
Day 16 – Set Up Your Social Media Accounts ……………………………… 39
Days 17 to 23 – Repurpose Your Content …………………………………… 42
Benefits of Content Repurposing …………………………………………… 42
Some Popular Formats To Repurpose Your Content Into ………….. 44
Day 24 – Set Up Google Analytics …………………………………………….. 50
Day 25 – Start Publishing New Content On Your Website …………….. 53
Day 26 – Publish Content On Social Media and Start Building A Following……. 56
Day 27 – Start Reaching Out To Authority Sites For Guest Post Opportunities ….. 59
Day 28 – Reach Out To Social Influencers In Your Niche ………………. 61
Day 29 – Comment On Popular Articles And Blog Posts ………………. 64
Day 30 – Reach Out To Relevant Websites And Ask Them To Feature Your Content …. 66
Conclusion – Day 31 and Beyond ……………………………………………… 69
30 Day Content Marketing Plan Ebook and Videos MRR Article Titles:
3 Essential Components Of A Successful Content Marketing Strategy
4 Reasons You Should Explore A Persona-Based Content Marketing Plan
5 Ways Content Marketing Can Benefit Your Brand
6 Key Steps To Creating A Successful Content Marketing Strategy
6 Pro Tips To Successfully Outsource Your Content Marketing
How Influencers Can Help Promote Your Content
How To Generate Tons Of Content Ideas Using 3 Simple Techniques
Quality vs. Quantity In Content Marketing
Top 10 Content Types For Your Content Marketing Campaigns
Why Effective Writing Is Key To Your Content Marketing Success
But Of Course I Am Not Done Yet…
This package also comes with a huge Upsell module that was crafted to put more cash in your pocket. It is tightly related content and content in even more popular formats including Video and Audio.
A built in sales funnel that is easy to put in place and will work on auto-pilot for you.
30 Day Content Marketing Plan Ebook and Videos MRR Upsell package Includes:
Videos – 10 professional MP4 video's that cover the same content in the 30 Day Content Marketing Plan Ebook and is your ready to profit from digital product for the huge self improvement niche. All you need to sell plus big upsell kit. guide. You know how many people prefer video these days, so it can be a great upsell and a way to make more from each buyer you have. And since content is so tightly related, it's the perfect related upsell. It's a built in sales funnel, done for you. Also being in MP4 format, you'll know they are easy to use on your website or blog.
Upsell kit – Here you'll get all you will need to resell the 30 Day Content Marketing Plan Ebook and Videos MRR Upsell, it is your ready to profit from digital product for the huge internet marketing niche. Simply insert your payment link to the sales page and your download link on the thank you page, upload the two web pages and it's ready to make you money all on auto-pilot. Here's where you could make even more from every buyer. They trusted you enough to buy the main product and since the upsell content is so related, there is a good chance many will purchase the upsell as well.
Audio Files – 10 professional MP3 files that go over what is taught in the main ebook and the video's. And who doesn't have a device that can play MP3 audio these days? Most every one. From mobile phones to tablets and other electronics. And with the fact that many people like to learn while they are on the go, this could be a great opportunity to get those extra upsell sales. Easy money as they say.
7 Day Autoresponder Series – 7 pre-written 30 Day Content Marketing Plan Ebook and Videos MRR. Email messages in text format, just for this product. They are content based and promotional, the best of both worlds and another opportunity to make some sales. Easy to customize and make them your own, then just copy and paste them into your autoresponder service and they are read to work for you 24/7 on automatic. The list alone could make you profits far in to the future. Just imagine all the related products you could promote to this list.
Special Report – A quality 9 page PDF report entitled, "A 5-Minute Guide To Successful Content Marketing. It gives your new subscribers a taste of the content, and leaving them wanting more and it's the best time and place to promote your main or your upsell product. Since PDF, you know your subscribers won't have any trouble enjoying and reading the content.
Affiliates Toolbox Page – Make even more sales for your 30 Day Content Marketing Plan Ebook and Videos MRR is your ready to profit from digital product, by having others do the work for you and you only have to pay them when they makes you sales. Ready to use web page to recruit affiliates that can do the promotion and selling for you. Built into the page are Email Swipes, Banners, Social Media Swipes, Forum Signatures and Email Signatures. Everything your affiliates need to promote your product. I can tell you from experience, it has more promotional content than many affiliate programs provide, so more affiliates for you.
Social Media Swipe Kit – 4 text files for the 30 Day Content Marketing Plan Ebook and Videos MRR is your ready to profit from the huge internet marketing noche. All you need to sell plus big upsell kit. promotional material on the affiliates page. Including Email Signatures, Facebook & Google Plus Posts, Forum Signatures and Twitter Tweets. So simple, just copy and paste on your social profiles and walls and you are done. Drive more traffic.
Top Forums and Blogs – 2 reports, Top Blogs and Top Forums. In PDF format for easy use by your customers. Giving them even more ways to gain buyers and traffic.
Keywords – 4 keyword reports so you can target those buying customers. PDF, Broad Excel, TXT Facebook Ads and Narrow Excel file. Includes Board matches for the running niche.
Featured Images – 6 quality 30 Day Content Marketing Plan Ebook and Videos MRR featured images perfect to add to your blog to drive traffic. 5 in size of 600×314, one feature box special offer in size of 595×605 which is perfect for promoting this product. All in PNG.
30 Day Content Marketing Plan Ebook and Videos MRR Covers:
ATTENTION: Business owners, bloggers, marketers, coaches, product owners…
"Finally! The In-Depth Content Marketing Course You

'

ve Been Waiting For Is Here"
Discover how you can finally create a content marketing strategy that will help you grow your business!
Are you in a tight spot right now? You want to grow your business, but nothing seems to be working?
You're tired of hearing people say how this technique and that method worked for them.
Maybe digital marketing isn't as good as 'experts' proclaim it to be.
Perhaps content marketing is nothing but some fancy phrase that some marketer cooked up!
And truth be told, you feel like you just want to give up sometimes.
Do Any Of These Scenarios Sound Familiar?
You've got a blog on your website, but no one ever reads your content. You probably think you're not a very good writer
You've got people reading your blog and visiting your website, but you never get sales, at least not consistently! $0 days are but a normal for you.
You know you've got some valuable content on your site, but you don't know how to get it in front of the right people (you probably don't even have a clue who to target)!
You've read a lot of books and articles on how to grow your business, but they all cost a ton of money.
You've no idea how social media works and how you can use it to promote your brand successfully.
You're willing to put in the time to learn new digital marketing strategies, but you want someone to hold your hand, or at least provide you with a step-by-step manual.
Do You Want To See Your Business Succeed?
Of course, you do! No business owner is going to say they want to see their business fail!
Fortunately for you, help is on the way. I've created a detailed course to help you plan your content marketing strategy in just 30 days!
It's full of high actionable and practical tips that will walk you through everything you need to do within the 30-day period.
Are you excited? I bet you are! You can say goodbye to failure and finally say hello to success!
Let me introduce you to
The 30-Day Content Marketing Plan
A 30 Day Blueprint To Creating A Conent Strategy That Converts
The 30-Day Content Marketing Plan is a is a step-by-step blueprint to creating fresh content that converts.
Here's what you'll discover in this course:
The easiest way to chart your path from beginner to content marketing expert!
The one secret no one tells you about the different digital marketing techniques.
Why getting social – and building relationships – with influencers is important for your success.
How to thoroughly plan out your content marketing strategy and finally succeed in your marketing efforts!
The easiest way to make the most of your content and how you can use these to further along your content marketing goals.
8 different WordPress plugins that are essential to your content marketing strategy.
Why you need to understand what a content marketing funnel is so you can create the right content.
How to write content like a boss and be looked up as a thought leader in your industry!
6 popular formats you can repurpose your content to and how you can use these to get backlink opportunities.
SPECIAL BONUSES FOR TAKING ACTION!
FAST-ACTION BONUS #1: Point-By-Point Checklist – View or print this handy checklist so that you can check off each point. It is like a summary of the entire guide but in actionable, bite-sized points so that you can successfully get through the course.
FAST-ACTION BONUS #2: Resource Cheat Sheet – You'll also get access to a rolodex of top sites, blogs, forums, tools, apps and services to get you even further. Inside you'll find: Top blogs and forums, Top tools, Top tips and how to's and more!
FAST-ACTION BONUS #3: Mind map – A quick glance over this mind map and you'll get an instant refresher of all the major points and action steps from the main guide.
Does that sound good or what?
Are You Finally Ready To Launch A Content Marketing Strategy That Works?
You'll learn so much just by going through this course. Here are some of the most powerful benefits you'll gain:
Uncover why content marketing is so important in today's digital world.
Know which platform is best for your brand's content marketing activities.
Learn how to utilize the power of content marketing, social media marketing, influencer marketing, and other marketing techniques to help your business grow.
Never underestimate the power of building relationships with your audience, the influencers in your niche, and yes, even your competitors.
Discover how to build a system that will let you publish high-quality content on a regular basis.
Be a content marketing master in as little as 30 days!
Find out how you can finally target the right keywords that will bring in a ton of highly targeted traffic!
P.S. – Buying this course will help you figure out how you can use the power of content marketing to provide not just valuable content for your audience, but to convert them to leads as well. Youll also get the added benefit of knowing what kind of content Google (and other search engines) love and how you can use this to your advantage.
P.P.S. – You'll never find another step-by-step guide like this at this price. This guide will not only educate you on the different techniques you can use to grow your business, but it will also hold your hand while you learn everything there is to know about content marketing.
30 Day Content Marketing Plan Ebook and Videos MRR Upsell Covers:
"Now You Can Get Instant Access To 10 HOT, Over-The-Shoulder, Step-By-Step Video Tutorials.."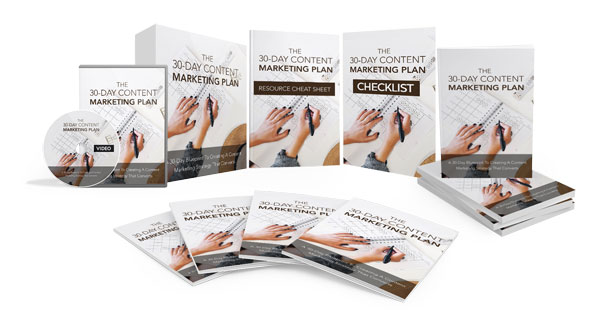 Download And Start Playing These Videos Tutorials Right From The Comfort Of Your Home!
There's a long way and a short way.
The long way?
Trying to figure out everything yourself, only to go around in circles. All that time wasted could have been put into something more worthwhile.
Want to know the short cut instead?
Good news!
I recorded 10 exclusive, step-by-step video tutorials that'll show you the tools, techniques and my top tips to finally succeed and get results!
Here they are:
Video #1 – 3 Ways Content Marketing Is Great For Your Site's SEO
Video #2 – 4 Simple Tips To Help You Write Persuasive Content
Video #3 – 5 Reasons You Need A Good Content Marketing Strategy In Place
Video #4 –6 Major Characteristics Of High Converting Content
Video #5 – 7 Reasons Why Your Content Marketing Strategy Is Failing
Video #6 – 8 Places To Distribute Your Content For Even More Traffic
Video #7 – 10 Methods To Generate Content Ideas Quickly
Video #8 – How to Develop A Content Marketing Strategy
Video #9 – How To Use Content To Build A Massive Audience For Your Brand
Video #10 – Why Content is The Most Important Thing On Your Website
Sound Good?
Remember when I asked if you wanted the long way or short way?
Well, these videos will give you that unfair advantage and help you finally breakthrough so you can get results starting as soon as you finish watching the videos!
30 Day Content Marketing Plan Ebook and Videos MRR Rights:
1. You're granted master resell rights, resell rights or to resell with personal use rights. Price for resell is strictly $7.00 minimum.
2. You may add this product to your PAID membership site.
3. You may giveaway the product as a bonus when people buy through your affiliate link.
4. You may edit the included sales page and opt-in page.
5. No, you may NOT edit the contents of the eBook(s).
6. No, this product does NOT include private label rights. You are granted Master Resell Rights only.
7. No, you may NOT giveaway the main eBook for free. Must be sold for at least $7.00.
Browsing: 30 Day Content Marketing Plan Ebook and Videos MRR