Bounce Back Ebook
File Format: Adobe PDF, TXT, HTML
Number of Pages: 83 Pages
Sales page: Included, HTML
Download/Thank You Page: Included, HTML
Included Graphics: eCovers, Webpage Images, Banners, Social Images
Cover Graphics: PNG in multiple formats and sizes
Miscellaneous Graphics: Promotional Banners, Extra images
Extra Pages: Checklist, Resources, Mind map, Opt-in Page
Extras: Articles, Give Away Report
Year Released/Circulated: 2018
Suggested Selling Price: $37.00
Bounce Back Ebook Introduction:
There's probably nothing more crushing than failing after you've given your all, your everything, to a project, a business, a relationship, or to life, in general. Just the thought of being rejected, of being declined, of failing, is a depressing thought.
All the hours you've spent building up your strength, your knowledge, or your finances, all will have been for nothing. And it hurts, it truly does. But it's not the end of the world, you know.
Time and time again, if we study history, we'll read about stories of people who've failed spectacularly. But, as you'll read in this eBook, many of them have managed to overcome their failures by getting back up and learning from their mistakes.
You'll learn inspiring stories of modern day heroes who've stepped up from the very bottom and risen to the pinnacle of success, power, and fame.
This eBook is meant to inspire you, and let you know that making mistakes and failing, no matter how catastrophic it may seem now, is not reason enough to give up.
If you're in a bad situation now, lighten up. For as long you've got life in you, there's no reason not to continue fighting for your dreams.
People have bounced back from natural and man-made disasters that almost cost them their lives. Surely, failing at something can't compare to that!
By the end of this eBook, you'll learn so many things about yourself, failure, and success. You may find it hard to believe now, but as the saying goes, there's light at the end of the tunnel.
Some tunnels may be longer than others, thus making you think its endless. But ultimately, you'll reach the end, and you'll have arrived at your destination.
Bounce Back Ebook Package Includes:
Ebook – 83 p[age PDF that tells how to turn failures and mistakes into stepping stones for success. Goes into detail about why people fail and even more detail of how to find great success.
Sales Package – Everything you need to resell the ebook with a quality and professional sales page and a matching download page. Just insert your payment link and your download link, upload the two web pages and it's ready to make you cash on automatic.
Give Away Report – 9 page PDF entitled, "5 Simple Ways To Overcome Failure". Great way to give your subscribers a taste of the content, leaving them wanting more, which could be your Bounce Back Ebook.
Optin Page – Modern squeeze page with the step process that has shown to increase optin conversions. Use it with the above report to build yourself a email marketing list in a huge niche.
Emails Swipes – 3 pre written autoresponder messages covering, Lead Magnet or Optin, Sales Copy (short) and sales page long copy. You also get extra subject lines so you can split test to get more subscribers.
Checklist – 5 page PDF that will help your buyers achieve success by checking off each step of the system. Help to keep them on track.
Resource Cheat Sheet – 6 page PDF is a compiled list of useful resources to help your buyers on their journey to success.
Mind Map – Perfect for your buyers to get and see the Bounce Back Ebook big picture. In three formats including HTML, JPG and PNG.
Articles – 10 quality articles you can use for content and promotion. All related to getting past failure. In both word DOC and plain text formats, so you know they are easy to edit. Copy and paste ready.
Social Media Images – 10 professional images you can post on your social profiles to drive more traffic and sales. They have a background image with a text quote overlay. All in JPG format.
Graphics – All kinds of extra images including, box, bundle, checklist, DVD, ebook, ebook stacked, lead magnet, report, resource cheat sheet plus a flat version of the ecover.
Bounce Back Ebook Contents:
Introduction …………………………………………………………………………………… 7
Chapter 1 – Why Do People Fail?……………………………………………………. 9
Fear of criticism and rejection ……………………………………………………….. 10
Lack of self-discipline …………………………………………………………………… 13
An abundance of self-doubt ………………………………………………………….. 15
Lack of motivation and inspiration………………………………………………….. 16
Chapter 2 – Signs You're Afraid Of Failing ……………………………………. 19
You want to stay in your comfort zone ……………………………………………. 20
You're procrastinating, and you're stuck in preparation mode ……………. 22
You have bouts of anxiety just before you need to take action…………… 24
You're far too easy to distract ……………………………………………………….. 25
You keep your dreams and your goals all to yourself ……………………….. 26
Chapter 3 – Don't Be Afraid Of Making Mistakes And Failing …………. 28
Mistakes are actually a good thing, if you learn from it ……………………… 29
Failures encourage you to explore different opportunities …………………. 31
Failure makes you stronger and more confident………………………………. 33
Failure brings you closer to success ………………………………………………. 34
Chapter 4 – You've Failed Before, So What? …………………………………. 35
Stop looking backward and focus on the 'now' ………………………………… 36
Get some support and take your first steps towards success…………….. 37
Success is a choice you actively make …………………………………………… 38
Start acting like you're going to succeed…………………………………………. 39
Chapter 5 – How To Make Peace With Failure ………………………………… 41
Accept things that aren't working …………………………………………………… 42
Evaluate your actions and weigh your options carefully ……………………. 43
Think of failure as an opportunity cost ……………………………………………. 44
Learn to embrace failure ………………………………………………………………. 45
Chapter 6 – Are You Giving Up Too Soon?……………………………………. 47
You don't have the discipline to stick to your idea ……………………………. 48
You don't compromise or adjust…………………………………………………….. 49
You keep comparing yourself to others…………………………………………… 49
You don't believe in yourself …………………………………………………………. 51
Chapter 7 – The Difference Between Average And Successful People … 54
Successful people thrive on rejection……………………………………………… 55
Successful people never lose hope ……………………………………………….. 56
Successful people take risks…………………………………………………………. 57
Successful people never stop learning …………………………………………… 58
Successful people set realistic goals and take action ……………………….. 59
Chapter 8 – Why You Need To Take Risks To Succeed…………………… 61
Taking risks give you purpose……………………………………………………….. 62
Great opportunities come from taking risks……………………………………… 63
Taking risks shows great self-confidence ……………………………………….. 64
Taking risks help overcome the fear of failure …………………………………. 65
It will be extremely difficult to achieve anything without risk ………………. 66
Chapter 9 – Important Lessons From Failure ………………………………… 68
Failure isn't forever so never stop trying …………………………………………. 69
Don't be afraid to change directions……………………………………………….. 70
Use failure as an opportunity to start anew……………………………………… 70
Get up when you fall down……………………………………………………………. 72
Not everything is about you…………………………………………………………… 73
Chapter 10 – Shape Your Mindset For Success …………………………….. 75
Have a growth mindset and establish your big dream………………………. 76
Focus on accomplishing your goals even when you need to take risks.. 77
Replace your bad habits with positive ones …………………………………….. 78
Learn from your mistakes and everything around you ………………………. 79
Do away with negative thoughts ……………………………………………………. 81
Conclusion – Are You Ready To Fail Forward?………………………………. 82
Bounce Back Ebook Package Article Titles:
3 Major Reasons Why People Fail Spectacularly
3 Ways Your Comfort Zone Is Helping You Fail
4 Ways Believing In Yourself Will Help You Become Successful
5 Powerful Lessons Successful Entrepreneurs Learned From Failing
5 Reasons Why Making Mistakes Is Good For You
Embracing Failure – Why You Need To Do This Now
How To Bounce Back From Failure In 5 Easy Steps
How To Make Peace With Failure
What Failure Can Teach You About Success
Why Self-Discipline Is So Important For Success
Bounce Back Ebook Covers:
"Finally! Discover How You Can Turn Failures And Mistakes Into Stepping Stones For Success!"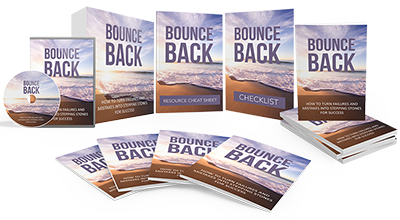 Uncover The Truth About Failure and Why You Shouldn't Be Afraid of it. Learn How You Can Use it as a Powerful Weapon To Finally Achieve Success in Life!
Failure is not something we can avoid in life. Everyone will fail at one time or another.
But, failure is not something to be afraid of either. In fact, it should be embraced if you ever want to find any kind of success in life.
So, the big question is this:
Why Are You Still Unsuccessful?
Is failure something you have an issue with?
Is it holding you back from achieving anything?
Do you fear criticism and rejection?
Do you find it hard to believe you'll ever amount to anything in life?
Are you lacking the motivation to pursue your dreams?
Are you scared of taking risks and leaving your comfort zone?
Do you easily give in to temptations and distractions?
Are you still obsessing over your past failures?
Do you keep on comparing yourself with more successful people?
Successful People Failed
Even the most successful people in the world are not exempt from failure.
In fact, they have probably failed more times than the average person! Most of them have failed spectacularly and fallen flat on their faces.
But, it didn't stop them from pursuing their dreams. They learned from their mistakes and adjusted their strategies as they slowly carved their path to success.
We only see successful people in their successful form. We didn't see the tears, the hardships, the countless sleepless nights they spent building their fortunes. We didn't see how they reacted when failure hit them full force and knocked them to their knees.
The truth is, successful people are people just like you and me. At one time, they were exactly like the majority of the population – living average lives and nursing their bruised egos and hiding away in their comfort zones.
However, they had big dreams. And they were passionate about their dreams. No matter how life tried to knock them down, they bounced back and fought with every fiber of their being.
They overcame their failures and mistakes, they learned from the experience, and eventually came out stronger and more confident.
Do you want to be like them? Do you want to be successful someday?
How Do You Bounce Back From Failure?
No matter how many times you fail, it will always sting. But don't let that affect you forever. If you do, then you'll forever be known as a failure.
Prove to everyone they're wrong about you being a failure. Show the whole world you have what it takes to bounce back from failure and achieve your dreams!
Let me introduce you to…
Bounce Back
How To Turn Failures and Mistakes Into Stepping Stones for Success
Here's what you'll discover inside this guide:
Learn how to embrace failure and learn from your mistakes.
Discover what the growth mindset is and why it's important for your success.
How to handle criticisms and rejections without taking it personally.
Learn the importance of self-confidence, self-control, and self-belief.
You'll find out why you have to get out of your comfort zone if you want to achieve anything.
How to identify new opportunities and new ways to arrive at your ultimate goal.
You'll discover why it's important to make peace with failure.
Uncover why giving up too soon is not a good idea.
You'll know the differences between average and successful people.
You'll learn and benefit so much by going through this course.
Here are some of the powerful benefits you'll gain by learning how to bounce back from your mistakes:
You'll be able to move forward and apply what you've learned from your mistakes.
You'll learn the importance of trying again and never giving up hope.
You'll get rid of your old, negative habits and acquire new, positive ones.
You'll be more willing to take risks and explore new opportunities.
You'll become a more confident and stronger individual.
You'll learn how to set realistic goals and take action.
You'll realize that every failure you make brings you closer to your ultimate success.
You'll develop self-belief, self-control, and self-discipline – all three will contribute greatly to your future success!
+ much, much more!
SPECIAL BONUSES FOR TAKING ACTION!
FAST-ACTION BONUS #1: Point-By-Point Checklist – View or print this handy checklist so that you can check off each point. It is like a summary of the entire guide but in actionable, bite-sized points so that you can successfully get through the course.
FAST-ACTION BONUS #2: Resource Cheat Sheet – You'll also get access to a rolodex of top sites, blogs, forums, tools, apps and services to get you even further. Inside you'll find: Top blogs and forums, Top tools, Top tips and how to's and more.
FAST-ACTION BONUS #3: Mind map – A quick glance over this mind map and you'll get an instant refresher of all the major points and action steps from the main guide.
P.S. – If you choose to skip this course, how is your life going to change? Are you going to be able to overcome your fear of failure so you can take action and achieve your dreams? That's unlikely without the information and resources in this course.
P.P.S. -You'll never find another top-quality course like this at this price. Make the investment in yourself and in your loved ones to get this package now!
Bounce Back Ebook Rights:
[YES] Can be sold
[YES] Can be used for personal use
[YES] Can be packaged with other products
[YES] Can modify/change the sales letter
[YES] Can be added into paid membership websites
[YES] Can put your name on the sales letter
[YES] Can be offered as a bonus
[YES] Can be used to build a list
[YES] Can print/publish offline
[YES] Can convey and sell Personal Use Rights
[YES] Can convey and sell Resale Rights
[YES] Can convey and sell Master Resale Rights
[NO] Can modify/change the main product
[NO] Can modify/change the graphics and ecover
[NO] Can be given away for free
[NO] Can be added to free membership websites
[NO] Can convey and sell Private Label Rights
Browsing: Bounce Back Ebook