Reclaim Your Time Ebook and Videos
File Format: Adobe PDF, TXT, MP4 Video, MP3, HTML
Number of Pages: 81 Pages
Sales page: Included, HTML
Download/Thank You Page: Included, HTML
Included Graphics: eCovers, Web page Images, Banners, Social Images
Cover Graphics: PNG in multiple formats and sizes
Miscellaneous Graphics: Promotional Banners, Extra images
Extra Pages: Checklist, Mind map, Opt-in Page, Lead Magnet and more…
Extras: Upgrade package with video's, upsell sales page and more.
Year Released/Circulated: 2018
Suggested Selling Price: $47.00
Reclaim Your Time Ebook and Videos Introduction:
If you are reading this book, you are undoubtedly trying to become more productive by managing your time better. That's a great goal. But you can't really manage time. An hour will always consist of 60 minutes, and a day will have 24 hours. That can't be changed. So, if you are lamenting, "I never have enough time!" keep in mind you have the exact amount of time as everyone else.
You can't manage time, but you can manage yourself by making better choices every day.
With each choice you make, you can improve your life or make it more difficult.
Proper goal setting is a major part of managing your time. However, it's critical not to confuse your end goal (the final result) with the steps designed to get you there.
For example, let's say your boss has placed you in charge of finding new office space. That's the end goal. But the steps you take to go about achieving that goal will make a huge difference.
You can do research and prepare a list of all available commercial space to present to the boss. This will probably take a few days. And you're not even close to the end goal, which is finding a new office for your particular company. You've started the project, but you've wasted time, as well.
If you were to handle the assignment with an eye on better time management, you would start with a list of needed information. What neighborhood would be best? What is the monthly rent and utility budget? This information can be gathered in minutes (hopefully, from the boss himself) and it will narrow down your project and save you days of needless searching.
Keeping the end goal in mind always saves you time. Have the necessary information at hand before you begin the actual work. It will eliminate a lot of steps along the way.
Reclaim Your Time Ebook and Videos Package Includes:
Ebook – A 81 page PDF that explains how to focus on what truly matters. From figuring out your strengths and weaknesses to developing your skills and so much more. Table of contents listed below. Being a PDF, your customers won't have a problem consuming the content.
Reseller Package – All you need to resell the Reclaim Your Time Ebook and Videos book with a professional and high quality sales page and a matching product download page. Just insert your payment link and add your download link, upload the two web pages and it's ready to put cash in your pay pal account.
Checklist – 18 page PDF that will run your buyers through the simple tips and techniques to double their productivity.
Mind Map – 3 mind maps here to give your buyers a visual over view of the content. In JPG, PNG and mm formats.
Lead Magnet – A big 40 page PDF entitled, "7 Time Management Tips For Success". Use it to build your email marketing list and promote your new product.
Landing Page – Quality squeeze page you can use with the above give away report and build a list that could pay you far into the future. Simply copy and paste your optin code into the page, upload and it's ready to build you a list on automatic. Includes a thank you page too for your new subscribers to download the give away report.
Emails – 5 pre written autoresponder messages designed to help you sell more of your product. In plain text format so they are easy to edit or customize as you wish. Copy and paste them into your autoresponder service and done.
Banner Ads – 5 professional images you can use to drive more traffic to your new Reclaim Your Time Ebook and Videos sales page. In PNG and in the most popular sizes of 120×300, 160×600, 250×250, 350×250 and 728×90. You also get the PSD's for the banners.
Graphics Pack – A ton of images here including, book, box, bundle, CD, checklist, cover, DVD, mind map and special report. Plus the logo.
Sales Video – As you know, video has shown to increase sales conversions and we've included one for you with the package to help you make more sales. IT's even already built into the sales page. We've done the work for you.
Reclaim Your Time Ebook and Videos Guide Contents:
Introduction ………………………………………………………… 5
Chapter 1 – Get to Know Yourself ……………………………. 9
Everyone Has Strengths and Weaknesses ……………………….. 9
Determine What You Really Want ……………………………… 12
What Are Your Daily Habits? ……………………………………. 13
Chapter 2 – Define Your Goals……………………………….. 20
Define and prioritize your goals …………………………………. 20
Make Each Day More Productive ……………………………….. 24
When Goals Change ………………………………………………. 26
Chapter 3 – How Productive Is Your Environment? ….. 30
Eliminate Distractions ……………………………………………. 30
Learn How to Focus ………………………………………………. 34
Chapter 4 – Develop Your Skills ……………………………. 39
Reading …………………………………………………………….. 40
Writing …………………………………………………………….. 42
Speaking……………………………………………………………. 44
Chapter 5 – The People Around You Matter …………….. 47
People Who Can Add to Your Life and Productivity ………….. 49
Surround Yourself with Success ………………………………… 50
Chapter 6 -Personal Time Management ………………….. 54
Remember – People Matter ……………………………………… 58
Re-Evaluate Your Personal Goals ………………………………. 59
Chapter 7 – Managing People Around You ………………. 62
Office Politics ……………………………………………………… 64
Not All Employees Are Created Equal ………………………….. 64
Be Aware of the Workload ……………………………………….. 65
Create a Positive Environment ………………………………….. 65
Create New Challenges …………………………………………… 66
Compensate Your Employees ……………………………………. 66
Find Out How Employees Spend Their Time ………………….. 67
Don't be Afraid to Delegate………………………………………. 67
Communicate Your Expectations ……………………………….. 68
Chapter 8 – Easy Tricks to Greater Time Management . 71
Using Time Management Apps …………………………………. 75
Conclusion ………………………………………………………… 77
I Am Not Done Yet…
Of course not! You should know me by now. You'll also be getting a nice upsell package that was designed to make you even more from your buyers. It's a built in sales funnel that is easy to set up. They trusted you enough to buy the ebook, so they are more likely to pick up the upsell as well.
Best yet, the upsell content comes in even more popular formats including video and audio. Read on to see what you'll be getting…
Reclaim Your Time Ebook and Videos Upsell Package Includes:
Videos – 10 quality videos, one for each chapter of the main ebook. All in MP4 format so you know they are easy to use and set up for your buyers. I know I don't have to tell you how popular video is for learning, so it's sure to help you sell more copies of your new product.
Audios – 10 professional MP3 files, one for each chapter of the main ebook. This is great for your buyers who like to learn on the go and there are plenty of them. Plus it's another bonus to could tip that prospect into buying your upsell. And who can't play MP3's these days?
Upsell Sales Kit – Everything you need to set up the upsell sales page including a modern sales page and a matching upsell product download page. Just add your upsell payment link and the product download link and it's ready tp put more cash in your pocket.
Slides – Content slides in both keynote and power point format. You can use to create your own slide shows, slide share or videos. 10 slides in each format, again, one for each chapter.
Transcripts – 10 Word DOC files, for each chapter.
Graphics – Even more package images including, iMac, iPad and pro bundle.
Reclaim Your Time Ebook and Videos Covers:
How To DOUBLE Your Productivity With These Simple & Effective Strategies
So you can experience exponential income growth and get more things done quickly with less efforts.
You're about to discover the time-management formula that will double your productivity, manage your time better, and accomplish more than you could ever imagine.
Imagine if you could:
Reduce the time taken to complete a work that will usually take 4 hours in just an hour…
Complete more tasks in a day that will usually take 3 days for other people…
Have more FREE time in the day because you know how to complete your tasks quickly.
But before I share with you the secrets to help you double your productivity…
Truth:
Everybody has 24 hours a day!
Nothing more and nothing less. An hour will always be 60 minutes, and a day will have 24 hours. That is the universal rule that can't be changed.
And remove 8 hours of sleeping, you only have 16 hours left in a day.
So, how does the group of highly successful billionaires such as Warren Buffet, Bill Gates, Mark Zuckerberg and Jeff Bezos achieve so much more in a day than others?
What really separates the world's top achiever and highly successful people is that they know how to manage their time better even though there's only 24 hours in a day.
Today Is Your Most Important Day Because …
I'm going to share with you the secret to better time management, double your productivity and get more things done as practiced by the world's top achievers.
Just know I've spent countless hours trying to compile all these secrets for you. So be rest assured that these tried and proven methods will be a real life-changer.
And here's your golden opportunity to upgrade your life to the next level.
There is no way in the world you will achieve your goals and attain the level of success you wanted… if you don't possess an effective time-management skill.
Today, I'm sharing with you the method that had brought me immense wealth, health and success to implement into your future.
Today, I'm handing you a rare opportunity to discover the power of increasing your productivity in helping you achieve your ultimate goal.
Your frustration ends here.
Introducing …
Reclaim Your Time
How To Create More Time For Yourself And DOMINATE!
Reclaim Your Time is the ultimate blueprint if you want to manage your time better, double your productivity, and get more things done so you can accomplish so much more than you could ever imagine.
You will learn everything you need to know about time management,
prioritization & productivity.
It's time to upgrade your productivity now!
Here's What You Will Learn From Reclaim Your Time:
4 simple things you can do every day to be more productive
One crucial question to ask yourself to find out what you really want in life
Are you living with a Time Serial-Killer? (If you answer all yes to these questions, then yes you are!)
3 effective goal setting strategy to help you become more productive
Addicted to Social Media? Here's how to cure your addiction… (Chapter 3)
How to deal with your co-worker who steals your time without offending them?
Does multitasking results in getting more things done? (Hint: It's a Myth!)
Speed-reading technique to help you read faster and save time!
How to use clear, concise and impactful words to master the art of persuasion.
Public-Speaking tips to influence people and make them see you as the Authority figure.
Avoid spending time with these 3 types of people if you want to be more productive
How to manage your personal time with 9 simple yet powerful tips
14 easy little tricks to Time-Management Mastery
The successful CEO's trick to managing people to get things done fast! (Chapter 7)
6 time-management apps to help boost your productivity
With Reclaim Your Time, you will:
Get more things done in lesser time and effort
Experience exponential income growth without working longer hours
Dominate their life by becoming the absolute best version of themselves
Create a massive impact in their own life and create positive influence to the people around them
Live a purposeful life and leave behind a legacy that will last forever
Become the top performer in their personal & professional life
Be more positive, creative, high-energy & always motivated
But Wait, There's More…
If you get Reclaim Your Time right now, you will get these time-sensitive bonuses:
Complete Check List – This checklist contains step-by-step action plan for you to make sure you get the full benefits Reclaim Your Time. By simply breaking one huge topic into easy digestible chunks, you get absolute clarity inclusive of easy-to-follow action steps!
Comprehensive Mind Map – This mind map is perfect for 'visual' learners. It outlines everything you are going to discover throughout the entire course. You will have a clear picture of what to expect and absorb so much more than reading through Reclaim Your Time by pages!
This is the most important point in your life.
Walt Disney once said…
"The way to get started is to stop talking and start doing."
If you choose to do nothing right now, your life will remain the same.
You will be frustrated, unhappy and anxious with your own life and yet, left wondering why some people are able to experience exponential income growth by being super productive.
If you are still not convinced to get this ultimate blueprint to help you become more productive…
I hope you can find your own way to reach the next step in your life soon. Thank you for reading up to this point.
But if you are still here, we both can agree that you want to TRANSFORM your life.
One main difference between successful people and those who are not… is that successful people take action.
If you want to manage your time better, be more productive, and get more things done… then I urged you to act right now.
Reclaim Your Time Ebook and Videos Upsell Covers:
You're One Step Closer To Discover
The Time-Management Secrets
Of Highly Successful
What I'm about to show you will speed up your progress of achieving time-management mastery…
… And transform your life in the shortest time possible!
It is an amazing offer that will compliment your new life-changing program.
Get Reclaim Your Time
Video Upgrade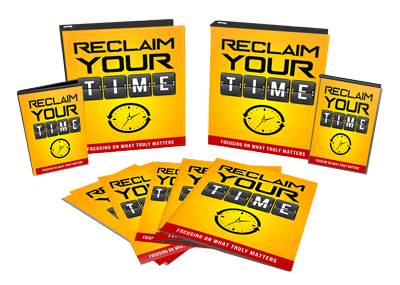 To unlock all the secrets within the book, you have to read every page…
And I know some people can only stand to read 5-10 pages a day…
That said, I'm pretty sure that more than 60% of the readers won't even last a single chapter.
That's the reason why many didn't get the results they truly desire because they gave up half-way through the process.
What if I can show you a way to shortcut the process?
Would you be interested?
That's right, I'm talking about cutting half the time you spend on reading and gaining 30-40% more results.
If you are, then you will love the video course of Reclaim Your Time.
Here's Why You Should Get This Upgrade
As you already know, using video is one of the best ways to learn.
Think of this video upgrade as having a virtual coach where I'll guide you by your side and show you the exact step-by-step practice from this program.
You will remember more from this video course than reading the ebook because…
… You have a voice that speaks to you, guides you and grabs your attention with visual graphics.
You can easily absorb everything easily from this course without any distractions.
Did You Know That We Remember 50% Of The Things We Hear And See?
This interactive form of visual receiving allows you to easily recall what you have learned…
… And break the boundaries of what you might already know about a topic.
These videos are designed and recorded by a professional voice-over actor for optimum results.
Meaning… You will get results in LESS time!
And I want you to see positive, real results when you put everything you have learned into practice.
A Sneak Peek At What's Inside This Amazing Video Upgrade
High Quality Video Course
You Get 10 Premium Quality Videos of Reclaim Your Time!
Find Out How This Upgrade Will Benefit You…
Be Fully-Immersed with these 10 powerful video course!
Get ready to double your productivity, manage your time better and get more things done.
All you need to do is sit back, relax and push the PLAY button and reap all the benefits!
FIRST-CLASS quality in Videos and Audios – You will absolutely love them!
Video 1: Introduction
Video 2: Get to Know Yourself
Video 3: Define Your Goals
Video 4: How Productive Is Your Environment?
Video 5: Develop Your Skills
Video 6: The People Around You Matter
Video 7: Personal Time Management
Video 8: Managing People Around You
Video 9: Easy Tricks to Greater Time Management
Video 10: Conclusion
Reclaim Your Time Ebook and Videos Rights:
[YES] Can be sold
[YES] Can be used for personal use
[YES] Can be packaged with other products
[YES] Can modify/change the sales letter
[YES] Can be added into paid membership websites
[YES] Can put your name on the sales letter
[YES] Can be offered as a bonus
[YES] Can be used to build a list
[YES] Can print/publish offline
[YES] Can convey and sell Personal Use Rights
[YES] Can convey and sell Resale Rights
[YES] Can convey and sell Master Resale Rights
[NO] Can modify/change the main product
[NO] Can modify/change the graphics and ecover
[NO] Can be given away for free
[NO] Can be added to free membership websites
[NO] Can convey and sell Private Label Rights
Browsing: Reclaim Your Time Ebook and Videos