End Emotional Overeating Ebook
File Format: Adobe PDF, MP3, HTML
Number of Pages: 45 pages
Sales page: Included, HTML
Download/Thank You Page: Included, HTML
Included Graphics: eCovers, banners, social images
Cover Graphics: PNG in several styles and sizes
Miscellaneous Graphics: Various sales images
Extra Pages: Downsell, OTO, Thank You
Extras: MP3 audios, keywords, Tweets
Year Released/Circulated: 2015 and timeless
Suggested Selling Price: $37.00
End Emotional Overeating Ebook Introduction:
As you well know, the weight loss and diet markets are a couple of the largest markets on the planet, if not the largest. Just look at all the commercials on television every single day.
We also know it's an evergreen market, meaning, there will always be people who need and want to lose weight. So you'll always have potential customers and buyers.
Not to mention, it can be a desperate niche, with people who would do just about anything and spend just about any amount of money if they think it will help them shed pounds.
This group is also know to buy more than one weight loss product, they often purchase product after product.
End Emotional Overeating Ebook Package Includes:
Ebook – 45 page PDF guide to end emotional eating forever. It has a professional layout. This guide details how to stop emotional eating covering everything from lifestyle choices to treatments and alternative therapies.
Reseller Kit – Everything you need to resell this product and you keep 100% of the profits on every single sale. Simple insert your payment link and download link, upload the pages and it's ready to make you money on automatic.
Promo Banners – Drive buying traffic to your new sales page with this high quality promotional banners. They come in all the popular sizes, so you'll have one to fit most anywhere. Sizes include, 120×240, 120×600, 160×600, 200×200, 240×400, 250×250, 300×250, 300×600, 468×60, 728×90, 970×90 and 970×250.
Ecover Graphics – 4 different style ecover graphics with three sizes each. Includes. software box, DVD and paperback. Also one combination style. In PNG format.
MP3 Audio's – 8 quality mp3 audio files, one for each chapter. These would make a great upsell to the main product and a way you can make even more from this package.
Keywords – Target buyins traffic and customers with this detailed keyword list in Excel file format.
Social Media Images – Drive traffic to your product sales page with this quality images created for social media. 10 graphics with picture background overlaid with related text quote.
Tweets – Another way to drive traffic to your sales page with 10 pre-written twitter tweets. Simply add your link, copy and paste and your done. Come sin Excel format.
Facebook Updates – Sure I don't have tell you that Facebook is one of the largest social platforms on the internet and here's how to grab your share. 10 pre-written facebook updates with over 1,100 words in DOC format. Just copy and paste them into your facebook an account and your done.
Mindmap – PNG and PDF version, gives an overview of the system.
Sales Funnel Pages – Make even more with this package with this sales funnel kit. includes downsell, one time offer and thank you page, all in HTML. Generate even more income with these easy to use web pages.
Sales Images – A ton of extra sales type graphics including headers, badges, social media icons, stickers and stars, checkmarks, bullets, buy buttons and so much more.
End Emotional Overeating Ebook Table of Contents:
Introduction & Overview ……………………………………………………………. 4
Chapter 1 – What Causes Emotional Eating? ………………………………………………. 10
Chapter 2 – How to Eat to Stop Emotional Overeating …………………………………. 14
Chapter 3 – Lifestyle Choices: The First Step To Overcome Emotional Eating …… 24
Chapter 4 – Nutritional Treatments for Emotional Overeating ………………………. 28
Chapter 5 – Alternative Therapies for Emotional Overeating …………………………. 33
Chapter 6 – Weight Loss Surgery: Can It Help with Emotional Overeating? ……… 37
Conclusion ……………………………………………………………….. 41
End Emotional Overeating Ebook Covers:
Gaining Weight But Don't Know Why? Eat Without Being Hungry?
Discover Exactly Why You Reach For Food Without Hunger And End The Unconcious Weight Gain Forever!
In the next 2 minutes you are going to learn how you can end emotional eating forever and stop the blind weight gain…
Let me start by asking you a few questions…Are you at your perfect healthy weight range? If not, does this make you feel down? Maybe even make you sad
Does it seem like you've tried everything in your power to halt the weight gain, and yet, despite your best intentions, you're still plagued with:
Not knowing why weight seems to mysteriously appear on the scales
Not recognizing the amount of food you are putting in your mouth
Not knowing how to control your eating when bored, sad or upset
If this describes you, then you are in luck today…
First, you are NOT alone! It may seem like it sometimes, but not knowing why you reach for yummy food in the cupboard without being hungry or eating when sad is far more common than you'd think.
I ought to know, because I've been in the same spot before…
If you or a loved one is suffering with gaining weight through unconscious eating and are looking for the solution to finally end the cycle you've come to the right place!
Introducing… End Emotional Eating!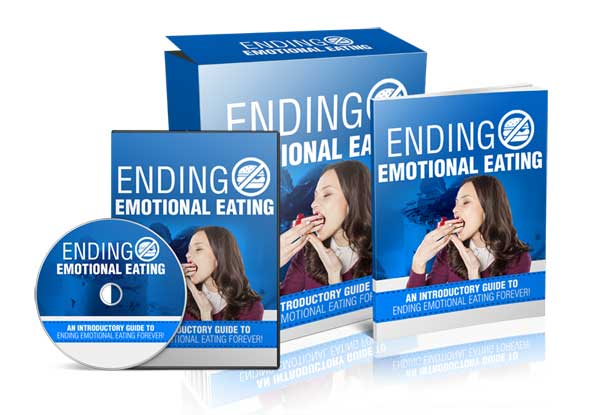 An Introductory Guide To Ending Emotional Eating Forever!
Emotional overeating is almost a joke in our society – movies, TV shows, and the resulting stereotypes cause many of us to laugh about how much ice cream it takes to get over a boyfriend, or how much chocolate we need to overcome rejection. But for those who actually suffer from emotional overeating, it's anything but funny
This powerful guide will provide you with everything you need to finally overcome this sometimes devastating eating problem.
Knowledge is power and once we understand the root causes of emotional eating we are well on our way to being able to overcome it. Or at the very least mitigate it's effects.
Here's What You'll Be Getting with the End Emotional Overeating Ebook:
Learn Exactly What Emotional Eating Is
Discover The Root Causes Of Emotional Eating
L____T_L_ C___C__ – The First Step To Change
Revealed! Nutritional Treatments For Emotional Overeating
Alternative Therapies To Overcome Emotional Overeating
These tips have been learned the hard way and are backed up by real life experience in addition to good practical research. A healthy and optimal weight range is an achievable goal for all of us.
Anyone can follow this plan and see results and not be lead astray by the lastest and greatest "miracle" plan or fad.
Not only can you enjoy the process of taking control of your everyday life…
But because self help and shifts in nutritional thinking is an all-year round adventure, you will always be prepared for whatever may come your way! So go on…
End Emotional Overeating Ebook Rights:
[YES] Can be used on any domains you own
[YES] Can be used on your client's domains
[YES] Can be sold with personal use license
[YES] Can be packaged
[YES] Can be offered as a bonus to a paid product
[YES] Can be added to a paid membership site with personal use license
[YES] Can be used for personal use
[YES] Can be given to list subscribers
[YES] Can be offered as a bonus
[YES] Edit the sales letter any way you want
[YES] Can sell Resale Rights
[YES] Can sell Master Resale Rights
[NO] Can be broken down into smaller articles
[NO] Can be edited and your name put on it
[NO] Can be used as web content
[NO] Can be given away for free
[NO] Can be offered through auction sites
[NO] Can be added to free membership sites
[NO] Can sell Private Label Rights to the original document
Browsing: End Emotional Overeating Ebook